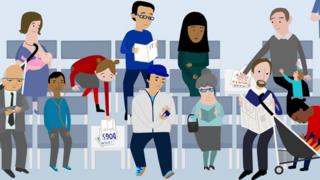 Patients in England face having to wait longer for hospital operations such as knee and hip replacements as the NHS is forced to make a tough "trade-off".
NHS England boss Simon Stevens said he could no longer guarantee treatment in the 18-week target time.
And he said GPs would be asked to cut back on the numbers of patients they referred to hospital with other options such as physio encouraged instead.
But he said in return there would be quicker cancer diagnosis and A&E care.
Mr Stevens made the admission as he unveiled a progress report on his five-year strategy for the health service that was launched in 2014.
He said demand was rising at a quicker rate than expected when he originally set out his plans and so compromises had to be made.
"There is a trade-off here – we do expect there will be some marginal lengthening of waiting lists but this will still represent a strong, quick experience compared to 10 years ago, let alone 20."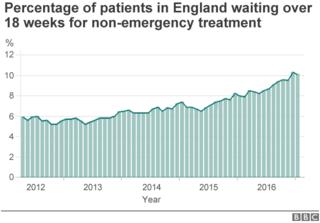 How long will patients have to wait?
Non-emergency treatments include everything from minor surgery and cataract operations to knee and hip replacements. Patients are meant to be seen within 18 weeks.
There are currently over 360,000 patients on the waiting list who have waited longer than that, which is one in 10 of the total, a proportion that has almost doubled in four years.
Mr Stevens said he expected that to get worse over the next couple of years. But he pointed out it needed to be seen in context of the situation a decade ago when nearly half of patients were waiting longer than 18 weeks.
However, he said several measures would be taken to reduce the numbers stuck on waiting lists.
GPs are being asked to look at how many patients they are referring to hospital and whether other options, such as physiotherapy, would be more appropriate, rather than undergoing operations.
He said this process could lead to hundreds of thousands fewer patients being referred to hospital.
But Age UK's Caroline Abrahams criticised the move.
"Having to wait a long time for an operation or procedure may not only condemn an older person to misery and pain, it can also undermine their resilience and make it harder for them to sustain their independence. This makes no sense."
Curbing drug spending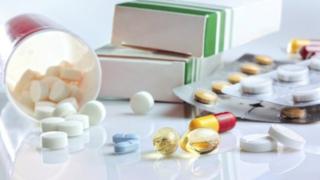 The NHS spends about 16bn a year on drugs and medicines. But the bill has been rising quickly – up 7% in the past year.
This is the largest area of spending after staffing so NHS England's report sets out ways this rising cost can be curbed.
Firstly, a cap has been set on the bill for new drugs. The roll-out of any new treatments that are going to cost the NHS more than 20m a year will now be delayed to give health bosses time to open talks with the industry to drive down the price.
Secondly, NHS England has announced it will review "low value" medicines. These include things such as suncream, gluten-free foods and some painkillers – a move which could potentially save 400m a year.
Both of these steps have already been announced prior to this report.
A&E waits to get quicker
In return, NHS England made a series of pledges about how they would improve performance in certain areas.
As Health Secretary Jeremy Hunt has already indicated, the four-hour A&E target has been re-committed to.
Hospitals have been asked to start hitting the 95% threshold again by March 2018. Current performance stands at just over 85%.
To help, each hospital is being asked to introduce GP triaging whereby doctors are placed on the front door to advise patients with minor illnesses and injuries of other places they can get help.
To ensure services are available, NHS England has promised that half the population will have access to evening and weekend GP opening by March 2018 with the rest of the country following a year later.
More pharmacists and mental health therapists will also be placed in surgeries during normal working hours to provide extra support.
Rapid cancer diagnosis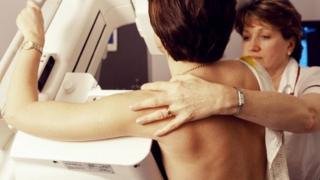 Another area that will be prioritised will be cancer care. A strategy was launched in 2015 setting out a vision for "world class" services by 2020.
This latest report sets out how that is beginning to happen with an upgrade of radiotherapy equipment and the introduction of 10 new rapid diagnostic centres by next March.
The latter will house a range of specialists under one roof meaning patients will no longer have to be referred back and forth between GP and specialist.
These steps, NHS England said, will help achieve the ambition of ensuring cancer diagnoses are made within four weeks by 2020 and lead to the 62-day target for cancer treatment to once again be hit – it has been missed for much of the past 18 months.
Improving mental health was also mentioned. NHS bosses said access to talking therapies would be improved, while extra beds in mental health units for children and young people would be opened to reduce the need for patients to be placed in centres long distances from their families.
But what about the money?
One area Mr Stevens refused to be drawn on was money. When he launched his five-year strategy, he explicitly asked for 8bn of extra funding for the NHS.
Ministers gave the front line the extra money this Parliament, but in doing so cut other areas of the wider health budget, including training programmes for staff and funding for healthy lifestyle schemes, such as stop smoking services.
Mr Stevens said this report was about what the NHS could "deliver" within the current level of funding, not about whether the budget was enough.
However, when asked, he refused to say he was happy with the amount of money the NHS was getting.
But others have not be so reticent.
Dr Mark Porter, of the British Medical Association, said: "The NHS is at breaking point from a combination of increasing demand and inadequate resources.
"Achieving one delivery promise only by missing another is a textbook example of rationing access to care. It should not be happening in today's NHS."
Read more: http://www.bbc.co.uk/news/health-39420662