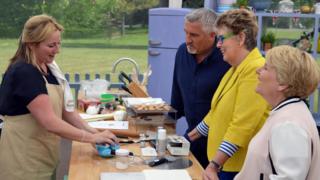 The second episode of The Great British Bake Off was watched by an average of 5.4 million viewers on Channel 4, according to overnight figures – rising to six million including +1. That's lower than the show's ratings on the BBC – but Channel 4 won't be worried.
In his Poetics, Aristotle says that tragedy contains six elements, and the first two are the most important: plot and character.
His rules apply beyond tragedy of course, to drama more broadly. And the basic ingredients of story-telling haven't changed much in the past two millennia.
To a very great extent, top quality television is still a union of these two elements.
In poaching Bake Off from the BBC, Channel 4 had to ensure they retained excellent plots and characters.
The former they could largely leave to Love Productions, the independent company who achieved such success with the format on the BBC.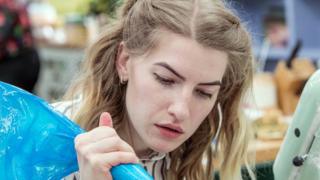 The latter was a trickier mission. But the near universal acclaim – among critics at least – for the combination of Noel Fielding, Sandy Toksvig and Prue Leith with Paul Hollywood suggests that they've scored on this front as well.
The ratings for the first programme also gave the broadcaster hope that this expensive gamble was well-judged.
It is true that the 6.5 million viewers they achieved in the overnight ratings for the first episode was well down on the 13.4 million that was achieved when Nadiya Hussain won the 2015 final.
And it was the lowest figure for an opening episode of GBBO since 2013 – when the show attracted 5.6 million viewers to BBC Two.
But there are several reasons for this, and Channel 4 wouldn't have expected to get anywhere near those dizzy heights with their first episodes.
Channel 4 simply has a lower baseline audience than BBC One. To attract audiences of over 10 million, Channel 4 would need both an outstanding product (which they may well have) and a degree of marketing and media hype which could only build over a series.
A learning curve
Even though this was their first episode and they put a lot of resources into promoting it, their hope will be that if the characters and plot develop well, the audience will gradually build.
Channel 4 will also see their first year with Bake Off as something of a learning experience: years two and three need to be bigger still.
It is possible that some residual loyalty to the BBC, and distaste for ads, will have dissuaded previous Bake Off viewers from making the switch to Channel 4.
But if Channel 4 sticks to Aristotle's formula, and craft a narrative that is truly compelling, its audience will grow – and their investment will seem prudent.
---
Follow us on Facebook, on Twitter @BBCNewsEnts, or on Instagram at bbcnewsents. If you have a story suggestion email [email protected]
Read more: http://www.bbc.co.uk/news/entertainment-arts-41164006