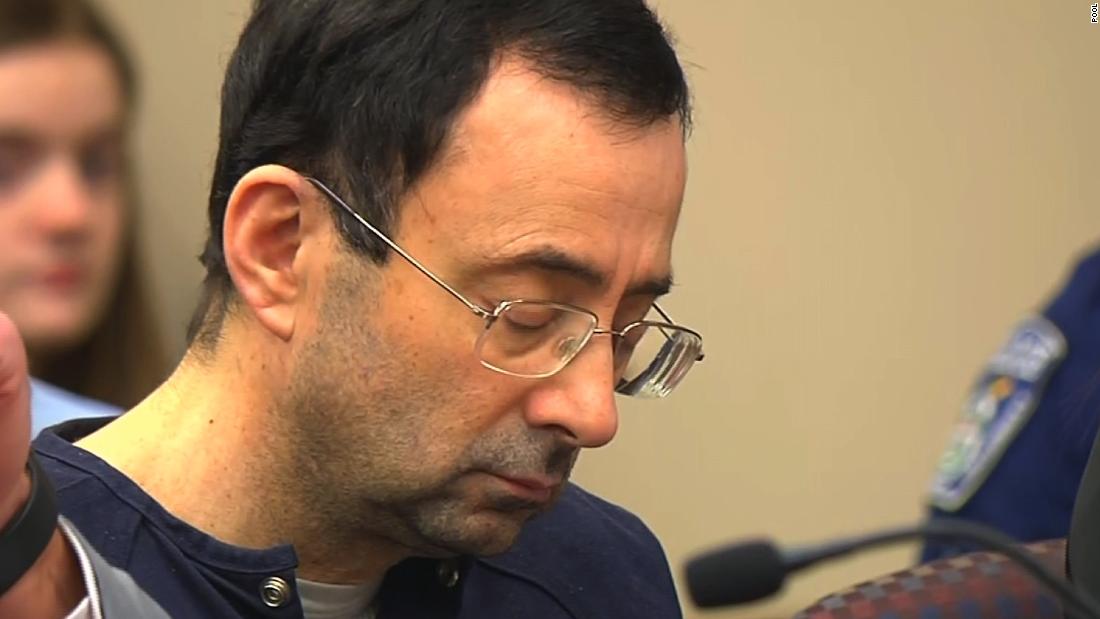 (CNN)If you happen to see Chipper Jones, Jim Thome, Vladimir Guerrero orTrevor Hoffman today, tell them congrats for making it into baseball's Hall of Fame. Here's what else you need to know to Get Up to Speed and Out the Door. (You can also get "5 Things You Need to Know Today" delivered to your inbox daily. Sign up here.)
Lou Anna Simon, Michigan State University's president,
resigned
just hours after Larry Nassar was sentenced to up to 175 years in prison for his decades of abuse of young female athletes. Critics lashed Simon, accusing her of mishandling the scandal involving Nassar, who worked as a doctor at the school.
Nassar was also the former doctor for USA Gymnastics, and when Judge Rosemarie Aquilina
sentenced him
— after a week's worth of victim statements from 150 women and girls — she pretty much threw the book at him. "I've just signed your death warrant," she said. Aquilina also read a letter that Nassar wrote to her in which he accused the women of lying and said he was "manipulated" into a guilty plea. After reading it, she literally tossed it aside.
2. Immigration
For weeks, Democrats and Republicans who've been trying to hammer out an immigration deal have been begging President Trump to let them know what he wants. Now he's
finally starting to do that
. The President said he's open to offering DACA recipients a
pathway to citizenship
— and he said they shouldn't worry about being deported when their statuses expire starting in March. If the President sticks to this position, it's huge because a solution for the Dreamers has been the main sticking point in immigration and budget talks, and may make Democrats more amenable to making a deal. But it's sure to tick off conservative Republicans, who consider an offer of citizenship nothing less than amnesty.
3. World Economic Forum
President Trump
arrived in Switzerland
early this morning to attend the
World Economic Forum
in Davos. The billionaire President with the populist message showing up at a meeting of global elites — the kind of folks he often rails against — would be awkward enough. But now there's the whole "s***hole" countries angle to deal with. Yep, Trump will rub shoulders with the leaders and heads of state of some of the very countries he reportedly denigrated in the Oval Office just a couple of weeks ago.
4. Cloning
Scientists in Shanghai say they've
created two monkeys via cloning
. The technique they used is the same method used to make
Dolly the sheep
two decades ago. This is all groundbreaking stuff, to be sure, but are we OK with all of this? Humans are in the primate family, and with this birth of cloned monkeys, these techniques could theoretically be applied to humans. The scientists involved insist they have no interest in trying to do that, but a British genetics professor said we need to figure out now the "ethical framework" for these kinds of experiments.
5. Water crisis
Cape Town, South Africa, one of the world's great cities,
may run out of water in April
. Yeah, you read that right. Officials in South Africa's second-largest city say "Day Zero" — the day when water taps run dry — will come on April 12. Cape Town's dealing with its worst drought in more than a century. Combine that with a rapidly growing city population and climate change, and you have a recipe for a crisis. People are coping by recycling bath water to flush toilets and limiting showers to just 90 seconds. And starting next month, residents will only be allowed to use about 13 gallons of water a day.
QUOTE OF THE DAY
"I am looking forward to it, actually."
BREAKFAST BROWSE
People are talking about these. Read up. Join in.
TV talk, part 1
Nicole Kidman, Reese Witherspoon, Laura Dern and
now Meryl Streep
. The cast of a big Hollywood blockbuster? Nope, just the next season of HBO's "Big Little Lies."
TV talk, part 2
Say it ain't so
Swan song
#ResistanceGenealogy
If you speak out against immigrants,
this genealogist
just may use your own family's immigration history against you.
AND FINALLY …
Whopper neutrality
Read more: http://www.cnn.com/2018/01/25/us/five-things-january-25-trnd/index.html